About Appalachian Conservation Biology
ACB is a small environmental consulting company specializing in the biogeography, ecology, and conservation of invertebrates, especially land snails. Other projects include butterflies, freshwater snails, natural areas planning, rare plant inventory, old growth forest research, and native grassland, wetland, and forest restoration.

ACB projects are conducted with specially-assembled teams of collaborators and subcontractors, with field activities ranging from Maine to western Virginia. Clients are often state and federal agencies, but also include non-profit conservation groups, private landowners, and other environmental consulting firms.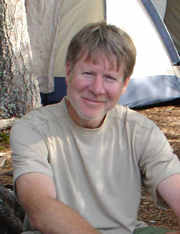 The company is operated by conservation biologist Ken Hotopp. Ken started ACB in 1997 in western Maryland, and since 2005 has been located in Bethel, Maine. He previously worked for the Maryland Dept. of Natural Resources, and has an M.S. from SUNY Albany, NY (1987) and a B.S. from SUNY College of Environmental Science and Forestry, Syracuse, NY (1982).

Ken is also a Research Associate with the Carnegie Museum of Natural History, Section of Mollusks. Mollusk Section head Dr. Timothy A. Pearce is a frequent collaborator. Ken has taught "snail school" summer field courses at Eagle Hill Institute, Steuben, Maine. /p>
Appalachian Conservation Biology practices energy conservation and sustainable resource use in its field and office operations.
The Appalachian Mountains of North America stretch from Georgia to the Gaspé Peninsula. They were created by the collision of continental "plates" of the earth's crust starting 650 million years ago. These mountains hold many forest, glade, and stream habitats that are home to a fantastic variety of plants and animals. The damp shady coves of the southern Appalachians are the center of diversity for eastern hardwood trees, salamanders, land snails, and other biota that have repeatedly spread outward and retreated in the wake of continental ice sheets.

Contact: Ken Hotopp
Appalachian Conservation Biology
P.O. Box 1298, Bethel, ME 04217 USA
Email
---

Selected Citations:
Hotopp, K.P, T.A. Pearce and K. Schmidt (illus.). A Field Guide to the Land Snails of New York State. New York State Biodiversity Research Institute. In Progress.
Hotopp, K.P. T.A. Pearce, J.C. Nekola, J. Slapcinsky, D.C. Dourson, M. Winslow, G. Kimber, and B. Watson. 2013. Land Snails and Slugs of the Mid-Atlantic and Northeastern United States. Online Resource: http://www.carnegiemnh.org/science/mollusks/index.html
Beier, C.M., A.M. Woods, K.P. Hotopp, J.P. Gibbs, M.J. Mitchell, M. Dovciak, D.J. Leopold, D.B. Lawrence, and B.D. Page. 2012. Changes in faunal and vegetation communities along a soil calcium gradient in northern hardwood forests. Canadian Journal of Forest Research 42:1141-1152.
Hotopp, K.P, T.A. Pearce, J.C. Nekola, and K. Schmidt. 2010. New land snail (Pulmonata: Gastropoda) distribution records for New York State. Proceedings of the Academy of Natural Sciences of Philadelphia 159:25-30.
Click here to download the .pdf (1.3M)

Hotopp, K.P., T.A. Pearce and D. Dourson. 2008. Land snails of the Cheat River Canyon, West Virginia. Banisteria 31:40-46.
Click here to download the .pdf (1.8M)

Hotopp, K.P. 2006. Patera panselenus (Hubricht, 1976) on the lower Cheat River, West Virginia (Gastropoda: Pulmonata: Polygyridae). Banisteria 27:40-43

Hotopp, K.P. 2002. Land snails and soil calcium in Central Appalachian Mountain Forest. Southeastern Naturalist 1(1):27-44.
Click here to download the .pdf (3.7M)